El Señor Martín is a place to enjoy the best fish. We offer carefully selected pieces and use the grill as our favourite form of expression.
A return to our origins, the sea and fire.
We got our start as the El Señor Martín fishmongers, renowned for their quality and innovation. Our desire to offer complete experiences to our customers has led us to the "other side", to create a very special restaurant, a true destination to enjoy the best fish. In our first year of life, we've been recognised as the Best Traditional Restaurant in Madrid by the Metrópoli Guide and we're part of the prestigious Michelin, Repsol, Traveler and Macarfi Madrid guides.
We scrupulously respect closed fishing seasons and fish life cycles in order to preserve the richness and quality of our seas. Since we are certain that one of the keys to the future of our fishing grounds is small-scale fishing, we want to ensure that catches duly protect their enormously valuable origin: Spanish coastal waters. For us, it's very important that the fishery chain is responsible, respectful of the environment and of natural resources. That's why we only serve fish of optimal size, quality, and freshness, since we're certain that our customers love the sea as much as we do.
To water. To fire. To the origin of everything, the sea. We are united with all the ports that dot the Spanish coastline, and our commitment leads us to perpetuate traditional fishing practices, which have been passed down for generations of fishermen, and are tied to our origins. By doing so, we respect the environment by promoting responsible fishing. We put our trust in the hands of the fishermen and producers, because those are the hands that catch the best pieces, which we prepare for you.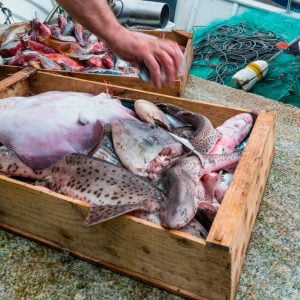 The sea changes every mile. Currents change its temperature, salinity fluctuates. The stones, living rock, the seabed, its depth… This all creates marine diversity, and the fish vary depending on which port you find yourself in. Even their flavour and colour can change. That's why it's so important to us to source local species from each fish market, travelling from port to port all over the coast, through their flavours.
All this is done with one goal in mind:
to create a haven for fish lovers.